Which is the best Digital Marketing course in India?
Download Course Brochure WhatsApp No: +91-7890002020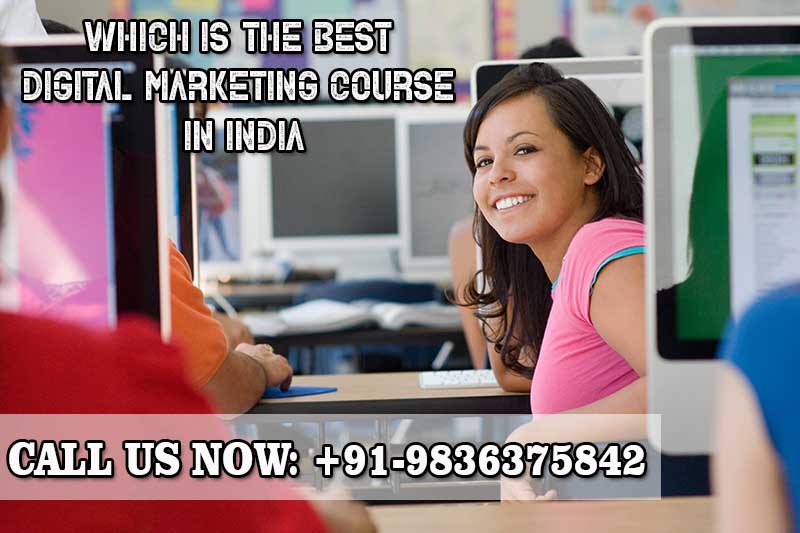 Which is the best Digital Marketing course in India, We will see here the top online courses and top digital marketing institutes and understand what change has come in digital marketing and how a student needs to stay prepared for changes to future technology. We start with the courses.
Digital Marketing skills are essential to the success of an entrepreneur.
In the initial days of business, whether it is a personal business or a startup, the connect to a marketing group always helps in starting. With that, there is a rising need for trained digital marketing professionals and considering that getting trained in many areas of it opens the gateway to a good career as well.
Here are the Top Institutes in Digital Marketing in India:
Extensive Ideas Academy
With faculty from IIM and Trained IITian's at IIT, it is consistently bringing quality Digital Marketing education for students. It covers SEO, SMO, PPC, WordPress, Cpanel, SEO Tools, Paid Tools Training like Link Assistant, Ahref, Affiliate Marketing, Email Marketing and many more things. Trained International students and worked with hundreds of entrepreneurs to businesses to students to colleges to impart updated and need-based Digital Marketing Knowledge.
The Modules covered under Extensive Ideas Academy's course:
search engine optimization
PPC Campaign Management
SMO or Social Media Optimization
PPC or pay per click marketing
Business Analysis or Digital Marketing Analysis
Competitive Analysis of Business
Content-Based Marketing
Video focused Marketing
Affiliate marketing
Email Marketing
Audio Search Optimization
Coding Free Website Designing
landing Page Designing
Hosting Infrastructure Management
Working for three years and has tied up with Extensive Ideas Academy brings one of the best digital marketing training with digital technologies. Students get to see the live site with 1000+pages ranked in 1000+ keywords. They cover AtoZ of Digital Marketing.
Tech Marshals Academy
An excellent institute imparting digital marketing training with social media marketing training, e-commerce training covering all digital marketing related certifications.
Geekschip
A perfect institute Known as the best in many cities in India, they bring quality digital marketing training with many variations. From web to digital they cover all the areas with expertise.
Digital Vidya
Known to be one of the biggest digital marketing training providers in India. It has branches in many cities in India brings modules in every aspect of digital marketing. It also boasts of many good international connections and provides students scope to learn in detail.
LipsINDIA
Well, a known institute of digital marketing and social media marketing. It covers areas such as analytics to email marketing including affiliate marketing as well.
Delhi School of Internet Marketing
Known to train thousands and renowned institute for providing digital marketing training to its students and brings quality education in all the areas of digital marketing for its students.
Simplilearn
An international venture provides international outreach with ease. It helps in getting the job and provides proper digital marketing training.
NIIT
Known as a university now still works in the institutes model and provides digital marketing training. It boasts of proper affiliations with ivy league institutes as well.
UpGrad
It has courses from foreign universities which can be pursued from India as well. Opening the scope to be trained by best in the industry it works very hard to provide quality digital marketing course from them.
We are starting with 5 top Online digital marketing courses available in India:
Extensive Ideas Academy's Digital Marketing Course
The only institute which brings one to one training. They cover in detail every aspect of digital marketing for a businessperson to the student. Starting from building a website to running adds and optimizing the site in search engines they cover every area. How to create the digital presence in social media, including optimizing and managing paid adds in social channels.
The trainer comes from IIM, Calcutta and delivered training at IIT, Kharagpur, Army Institute of Management, Kolkata. He also worked on an online training program for the University of Montpellier.
Google brings its own self-learning digital marketing course
From more than 100 countries nearly 100 thousand people joined Google's marketing challenge. A course that is delivered digitally from their website, covering the initial introduction to digital advertising, search engine paid to advertise, other techniques of marketing in search engine, image, video-based search marketing with an analysis to enhance the understanding far better. A complete course delivering the knowledge of search marketing to search analytics. This course comes with real-time guidance for AdWords and detail scope to study the web marketing advertising campaign for a business or not-for-profit organizations. The many active learners can earn awards from Google.
WordStream's online self-learning study platform on digital marketing called (PPC University)
The PPC University is an online learning delivery place created by WordStream. It is helping many understand digital marketing in a new way. The material given here is of good quality and updated continuously for better and latest understanding of the subject. WordStream built it to also help in managing the PPC campaigns correctly so that their keyword analysis tool becomes useful. With thousands of users using their keywords management tool to accomplish PPC Campaigns, they have worked alongside many companies small or big to understand the required knowledge to build, maintain and optimize campaigns. Accordingly, the study modules made for self-learning purpose.
There are many white paper or research papers including webinars available online to help understand digital marketing and all its allied fields. One of the best things one can study them from anywhere as all come in a mobile-friendly manner.
Social Media Quickstarter also developed a self-learning Digital Marketing Course
Emphasizing on Social Media Quickstarter course module built by Constant Contact, it integrates email with social media advertising, to maximize digital marketing impact on all available channels. Step by step lessons given so, students can research digital advertising techniques for Facebook, Twitter, LinkedIn, Pinterest, Instagram, Google+, YouTube, running a blog, and online entries and evaluations sites. The methods discussed here and the programs are organized to make a starter become expert in digital marketing techniques. The glossaries section and how-to manuals, mixed with good useful examples of the lessons come in handy.
Hubspot brings Inbound Marketing with Digital Marketing Certifications
HubSpot Academy gives an incredibly in-depth digital marketing training course with thousands of students, entrepreneurs and professionals participating and learning from their website and Udemy helped many grow their knowledge and understanding. The Udemy course comes with more than 38 classes of 4.5 hours of training which covers many aspects of Inbound Marketing. A company that specializes in inbound marketing brings many markets related and highly researched course materials for everyone.
Individuals can learn the fundamentals of inbound advertising, SEO, landing web pages, blogging, transformation optimization, business with email outreach and lead nurturing. After the qualification examination, a badge is given to the students for their cv or LinkedIn profile to display the HubSpot Academy Certification, just like Google's Certification.
Alison also brings Diploma or degree in E-Business
A vast learning community called Alison hs more than six million registered users. They also bring their certification and industry standard digital marketing and other related courses. Built by pioneer Mike Feerick, Alison started its journey in 2007 and was the 1st first MOOC (massive online open course) provider.
Digital Marketing has changed along since it started its journey. However, while taking the training, one thing must be kept in mind a live hands-on training and regular practice can take can't be replaced.
In the Digital Marketing sphere data has come up as one of the essential sources of information. As a student, entrepreneur/businessman and a professional gain from it the role of data has become very important in Digital Marketing. Enterprise's need to understand digital marketing starts with data and ultimately ends in data. If we do not use digital marketing instruments properly, we will not be able to derive the exact benefit even after spending a high budget on it.
What we expect and look from digital marketing in future? We would be studying the same from here.
The Kleiner Perkins is a renowned venture capital firm. Their research data models is a definitive guide to understand how the internet is growing & how digitization is growing? How is it helping businesses and digital marketers and how is it not helping? What are the things we need to worry about and what are the things that we see as a new entry bringing amazing results. While writing this content to not only provide information on few latest changes but also generate debate and help students create a better concept of digital marketing that they are going to face in the coming days.
It will not be, search optimization to social media Optimisation. It will not be just the pay-per-click advertisement. It will not be just programmatic. What future is going to bring for us? Whether its gift or something else that we need to figure out from time to time at current age? We will see all.
We have 3.6 billion internet users that are almost half of the world's population while the smartphone exports have dropped. As internet's reach is continuously increasing, even after increasing internet reaches the user base is not expanding much. Whatever expansion happened in user base is purely due to the low priced module of the internet.
The digital media usage has grown up by 4% with the rise of 4.9 hours to 5.9 hours of internet usage per day. Now growing in such a way we can see innovation with competition will bring improvement and usefulness in the usage of information.
With data from various sources, today we have high-quality devices whether it is a mobile or computer. Our machines are growing better faster and cheaper while increasing the quality we also have a better adoption rate to Wi-Fi Internet. Now with all these options, the simplicity in product development is seen. As today's products are very user-friendly, they get used for messaging, transferring money or buying things online or watching media and entertainment programs. Today's devices well made for all these purposes with another significant transformation that is happening is on payment segment.
In payment segment many new companies applications are coming. Technology is changing every day. Paytm is almost ruling the market till today in India but with the start of WhatsApp payment, the payments segment is going to go crazy. With a 500 billion dollar market for payment transactions in India all companies would like to have a good share of the same this is the reason Google has also released its payment application Tez. It is allowing the digital reach to expand in segments where there was no reach till date. With such payment mediums, people like vegetable sellers to small-time businesses are also accepting payment from digital mediums.
Now with the payment part growing digital currencies are also coming up to form a big market like Bitcoin and many other cryptocurrencies. These have opened a massive opportunity for business for Digital Marketers. To work and grow the market to a more significant shape. The capability of messaging with WhatsApp has taken the same to a new level, and it is possible only because of the high-quality internet. We can see today vast use of different digital applications to transact voice, video and text messages across the world with the rise of the high-quality internet one thing that is undoubtedly going to happen is the increase in video views.
Video views across the mobile segment have increased to 75 to 80%. For the online viewer, videos are becoming the primary content source. It is while searching for knowledge for watching entertainment programs and playing games. It is a reason we can see a massive increase in twitch streaming hours, as well as its user base reaching nearly 18 million users. The rise in video technology is only going to bring one more thing that is the voice. A massive change has happened in search engine use to content view online.
The search engine usage has shifted more towards voice-based search. By using sound, Technologies Amazon echo has provided us a fantastic experience of managing things, running across our business reports, news briefing and many other things. Competition in the voice-based digital marketing segment is going to change many things. We will see more voice Optimization. It would be one of the primary criteria customers need. More and better experience in online entertainment to content to other types of data personalization + collected data will provide a massive boost in this line. With the rise in the issue of hacking to leak of privacy data the scrutiny is going to stand with us for the days to come and digital marketers going to learn and unlearn and understand many new facts in this area
Companies are not going to benefit; Organisations are not going to see the real fruit of digital marketing unless it is practiced to improve data usability of them. Let's learn digital marketing in a new way, and an unlearn whatever crap one have discovered till now.